One may think that the key to a successful eCommerce business lies in developing the perfect product. But even the most innovative item won't skyrocket your sales if you fail to deliver it safely. After all, what customer would be satisfied with receiving damaged goods, right? To avoid this worst-case scenario, you should pick suitable eCommerce packaging.
Simply put, eCommerce packaging is the container that holds your products while they're on the way to your consumer. It is usually made up of the outer packaging and all the additional elements, such as inside fillers, that come with it. There's a great range of materials to choose from for this purpose, therefore, finding the one that's best for your product can become challenging.
To make the packaging choice easier for you, we sat down with HappyParcel's warehouse manager Justinas whose expert advice comes from many years of logistics experience. Here's what he had to say.
Why is packaging important in eCommerce?
Justinas distinguishes two main functions of packaging in eCommerce. Its primary purpose is to protect the products during transportation. Packaging is also representative as it's the first thing a customer sees when receiving the order. Some brands take advantage of eCommerce packaging for advertising opportunities by creating a positive customer experience with custom-made boxes or mailers.
"Regardless of how beautiful the packaging is, its primary function is to protect the product so that it is safely transported to the recipient."
What are the main criteria for choosing proper packaging?
ECommerce businesses have several options for packaging, including cardboard boxes, poly mailers, and padded envelopes. While the variety may seem quite vast, the criterion for choosing one or the other is actually pretty basic. As Justinas emphasizes, it all depends on the product you're shipping.
For non-fragile items such as clothes and other textiles that aren't vulnerable to physical forces like pressure or bending, poly mailers are a great choice. Nowadays poly bags are made firm enough to withstand even international shipping. And they're not transparent, so no one can see what's inside. This feature is convenient in eCommerce.
When it comes to fragile or heavier items, poly mailers are no longer a good option, because such products require more protection. A shipping box is a proper pick in this case.
Padded envelopes may seem attractive since they already have cushioning implemented inside. But Justinas explains that, in reality, their use is limited. Bubble wrap inside the padded envelope protects the goods against scratches, but not against physical deformation. So it's not recommended for products packed in small cardboard boxes, e.g. cosmetics.
"An order is properly packed when a box falls off the table, you open it and the item inside remains undamaged," Justinas says.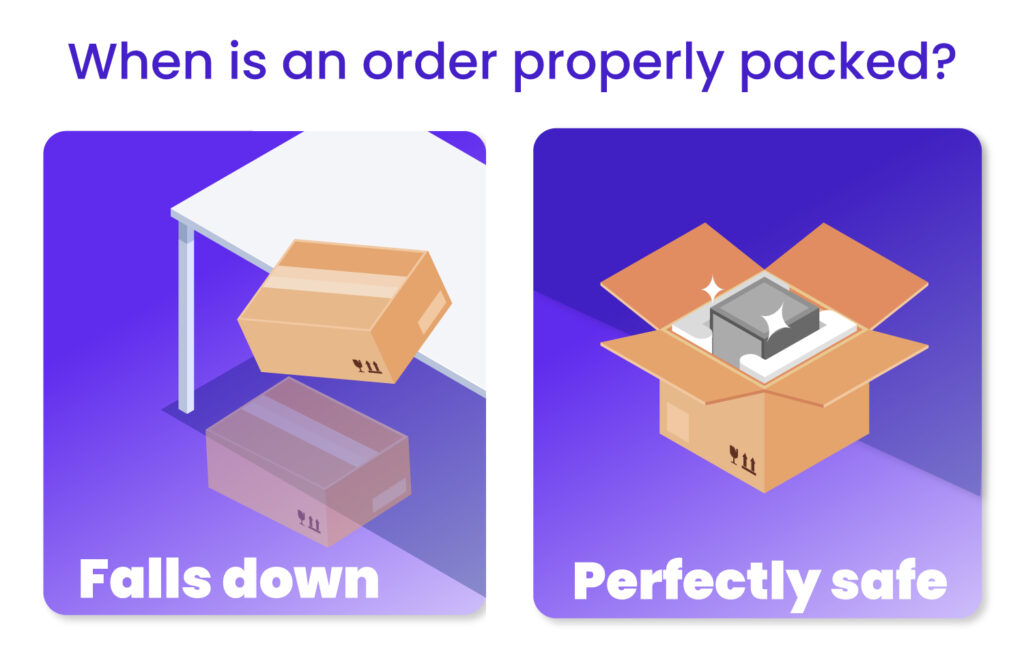 How to pick the right shipping box?
According to Justinas, cardboard, non-branded boxes are the most popular packaging choice among HappyParcel clients. They're optimal in terms of both the price and the size. However, you need to pick the boxes wisely.
A box shouldn't be too small or too big. If it's too tight and the parcel is accidentally dropped, it's the items inside that will take the blow, i.e. the product – not the packaging- will absorb the impact. If the packaging is too loose, there will be too much free space inside and the goods will tumble up.
Cardboard boxes differ not only in size. You can choose lightweight boxes, which is an economical option for sending goods of lower value. And if you're shipping products of a higher value that require more protection, you can pick double-wall cardboard boxes.
Justinas observes that customers with little or no experience in logistics often misunderstand how eCommerce order shipping works. They imagine that packages are carried from point A to point B by only one courier, when in fact parcels pass through many hands, conveyors, and sorters during the shipping process. They are stacked in piles on planes, ships, or trucks, depending on the transportation method. So a box may end up on top of the pile or at the bottom and must be sturdy enough not to be crushed in either case. "Packaging is perhaps the most important element in order shipping" concludes Justinas.
How to select proper filler materials?
Fillers, also called cushioning or padding, are used to protect the item inside the shipping box. Choosing them is no less important than picking proper external packaging. And the assortment here is quite broad, too.
Bubble wrap is perfect for fragile products if you use it in sufficient quantities. Justinas points out: "One layer of bubble wrap is not enough". Bubbles only serve as excellent protection for breakables when you wrap them in multiple layers. Another great thing about bubbles is that you can stick them to the item and they won't shift their position during shipment, so the goods will stay protected at all times.
Other common fillers include beans and packing paper. Justinas sees these two as interchangeable with only a few minor differences. Packing paper is more practical. You cut as much of it as you need and put it in the box, the client takes it out and throws it away. Beans, on the other hand, can create a little bit of a mess if you accidentally spill them. But you can use them more creatively and playfully if you pick colorful beans.
The final criterion for choosing one or the other once again depends on the product you're sending. Justinas recommends packing paper for lighter items and beans for heavier products.
What is the difference between standard and sustainable packaging?
Sustainability is one of the most relevant topics in today's world and it also applies to order shipping in eCommerce. HappyParcel warehouse manager Justinas notices that more and more clients are choosing eco-friendly eCommerce packaging over standard and adds that HappyParcel strives to do its part by opting for recycled, recyclable, and biodegradable packaging materials.
When asked what the difference is between standard and sustainable packaging, Justinas assures that there's none in terms of durability or protective characteristics. Thus, eco-friendly packaging is safe to use for all types of eCommerce product shipments.
What are the advantages of custom-made packaging?
Custom-made or branded packaging is usually more expensive, but serves more purposes. It can be used to create an additional positive emotion for customers and in this way build your brand awareness and image. At the same time, it provides a higher level of protection for your goods.
As Justinas explains, in most cases, custom-made packaging is more thought-out, detailed, and adjusted to an individual product. It comes with special folding, reinforced walls, or support points making this eCommerce packaging extra sturdy. Because of its durability and representative function, custom-made packaging can be a worthy investment for the best customer experience.
What is the ultimate eCommerce packaging?
According to Justinas, no packaging is more advantageous or disadvantageous than another. Each shipping situation is individual and the packaging needs to be adapted to the product. A reliable and experienced 3PL logistics provider, such as HappyParcel, can significantly facilitate this task for you.
Our employees will gladly consult you on which eCommerce packaging best fits your product, which filler materials to choose from, and how to pack everything so that the goods reach your customers in perfect condition.
Don't hesitate to get in touch with us for more information on our services.