Outsourcing order fulfillment is a big step for any eCommerce business. It can lead to rapid growth and smooth expansion of your company, both locally and internationally. All you need is to pick the model of logistics service provider which is right for you. Usually, that involves choosing between 3PL and 4PL.
However, the distinction between 3PL and 4PL is not always clear at first sight. And it can be hard to grasp how these two models work and which of them fits the needs of your eCommerce business more. It complicates the decision-making and a wrong choice can result in financial loss.
Luckily, we are here to guide you through the most important aspects of 3PL vs 4PL, so that you can confidently make the decision and boost your eCommerce business.
Let's get started.
Main aspects of the 3PL model
To better understand the differentiation between the two models, we first need to define them. In short, third-party or 3PL logistics is a model in which an eCommerce business outsources one or several facets of order fulfillment to an outside company. The level and the areas of expertise may differ from one 3PL partner to another as some facilitate only transportation and warehousing tasks, while others offer additional services on top of that.
For instance, HappyParcel takes care not only of the main logistics elements, including order shipping, warehousing and storage, but also of packing and returns. Plus, all these eCommerce fulfillment services can be adjusted to the client's needs, meaning that you can select which of them you want.
The order fulfillment process in this model is as follows. A 3PL provider receives your products at its warehouse, sorts and stores them. When a customer places an order, a 3PL company picks, packs and ships the products. Once the goods are delivered, order fulfillment is completed.
Main aspects of the 4PL model
Fourth-party or 4PL logistics is a model in which an eCommerce business outsources the entire supply chain to an independent outside organization. Contrary to a 3PL model, a 4PL provider doesn't carry out all logistics operations itself, but contracts out a portion of them to a separate party, e.g. one or several 3PLs. Instead, a 4PL focuses on the management and optimization of the supply chain and supervises all the involved parties on behalf of the eCommerce owner.
The process of order fulfillment in this model is slightly different from the 3PL as the 4PL usually coordinates the transportation of goods directly from the manufacturer to the 3PL warehouse. From here a 3PL provider takes care of daily fulfillment operations, while the 4PL oversees the process and manages the relationship with the 3PL and other involved parties.
The 4PL model is often applied when an eCommerce business doesn't have an internal employee who'd be responsible for administering the supply chain.
3PL vs 4PL: How they differ
In essence, both 3PL and 4PL have the same role – to take the logistics responsibilities off an eCommerce owner's shoulders so that you can concentrate on other aspects of your business. As a result, some of their features overlap and it becomes harder to draw a distinct line between the two.
Nevertheless, there are a few key points that can help distinguish these models.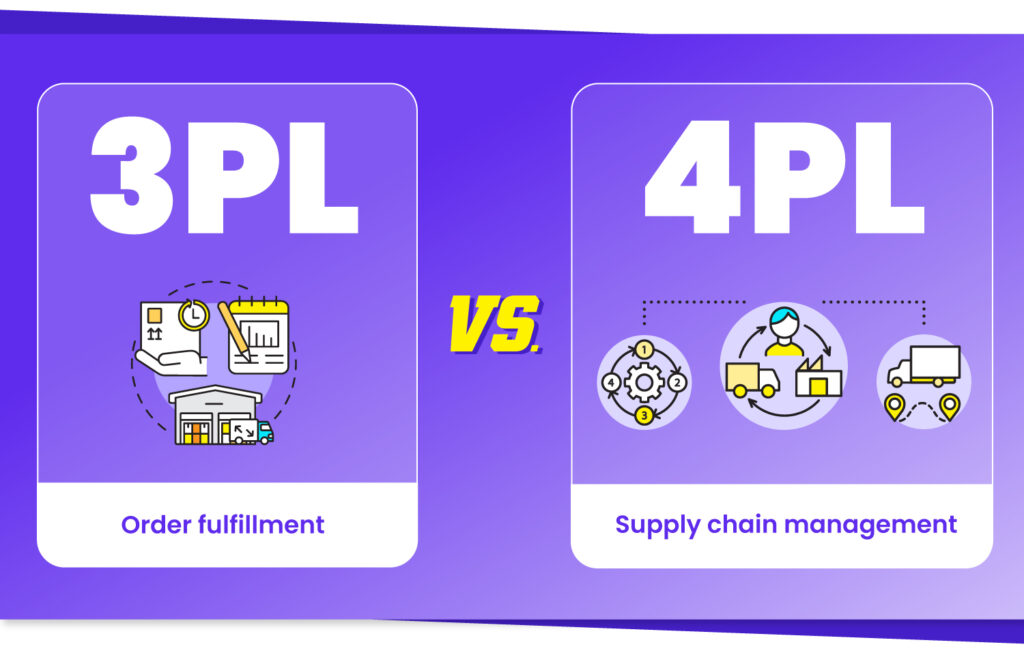 Control
The biggest difference between 3PL and 4PL is the level of control an eCommerce business retains on the logistics procedures. In the 3PL model, you outsource a portion of logistics duties to a logistics company, but you maintain oversight of them. It enables you to focus on business development without completely dissociating from order fulfillment.
In the 4PL model, you have less control since the whole supply chain is managed by the logistics service provider. It allows you to fully concentrate on business expansion, but at the same time puts you at a greater distance from logistics operations.
Focus
The main focal point of a 3PL company is to successfully fulfill day-to-day operations. In contrast, a 4PL provider oversees the entire supply chain and focuses on the bigger picture, which often involves developing a long-term strategy. Because of this, a 4PL can be also regarded as an advisor – offering beneficial insights to the eCommerce business.
A 3PL can take on an advisory role as well, but it depends more on the company and its areas of expertise. As HappyParcel has many years of experience in logistics, our team has accumulated knowledge in this field and is able to consult our clients on various questions they may have. We gladly help our customers find the logistics solutions that best match their business needs.
Assets
A 3PL provider has its own assets and resources – warehouses, staff, carrier contracts, and others, and thus has more control over pricing and the services it offers. This aspect can be very beneficial for the eCommerce business as it grants more opportunities to negotiate the costs.
A 4PL is non-asset based. Since it doesn't own any physical resources to carry out logistics operations, it relies on its network of vendors and connections to search for the best solution in terms of the price and quality of services.
Point of contact
Since 4PL oversees and manages the entire supply chain, it becomes a single point of contact for everything related to logistics. A 3PL provider, on the other hand, is one of several contacts you may have for administering the supply chain as you outsource only a part of logistics duties.
Both options can be advantageous for an eCommerce business depending on how much control the owner prefers to retain as, while seemingly more convenient, a single point of contact lowers the level of oversight you have on the whole supply chain.
Costs
For both 3PL and 4PL, the costs are determined by an individual offer. 4PL services tend to be more expensive since they also partly cover the responsibilities of an internal employee who would otherwise be overseeing the supply chain.
Which outsourced logistics model to choose
Neither of the two models is necessarily more advantageous than the other as they both have their pros and cons. Which one to pick highly depends on the scale of your business and your preferences.
A 3PL model is perfect for small and medium businesses, especially those that are expanding to new markets since a 3PL fulfillment partner can significantly facilitate the process.
A 4PL model is more suited for enterprise-level businesses that are ready to invest in overhauling their entire supply chain.
As logistics are advancing, the line between these two models keeps on blurring. That's why it's best to concentrate on the services provided and whether you're fully aware of what you are getting by outsourcing your order fulfillment to one company or another.
By partnering with a 3PL logistics provider HappyParcel, you are sure to know what you are receiving as we offer:
no-frills pricing,
warehouses in the USA and Europe,
highly engaged client service,
software that's easy to integrate with the most popular eCommerce platforms.
All of these benefits contribute to complete customer satisfaction.
To get more information, simply send us an inquiry.