eCommerce is a business field that's full of complicated procedures. And everything becomes even more complex when you wish to expand from the European to the USA market. No wonder that at some point in business development and expansion many eCommerce business owners start to look for solutions on how to optimize logistic processes.
And that's where third-party fulfillment or 3PL services come to the rescue. They allow businesses to easily reach new markets, simplify logistic solutions and open up vast opportunities to increase profit.
However, before partnering with a 3PL provider, many businesses face a lot of questions. Will fulfillment services save money or, on the contrary, add to the expenses? Does fulfilling orders on your own cost more than doing it through a logistics partner? Will the order truly reach the customer faster in this way?
To dispel your worries, we are going to answer the most important questions using the comparison method.
Below you can see the preliminary costs and delivery times when an eCommerce business fulfills order shipping to the USA on its own, i.e. doesn't use 3PL services.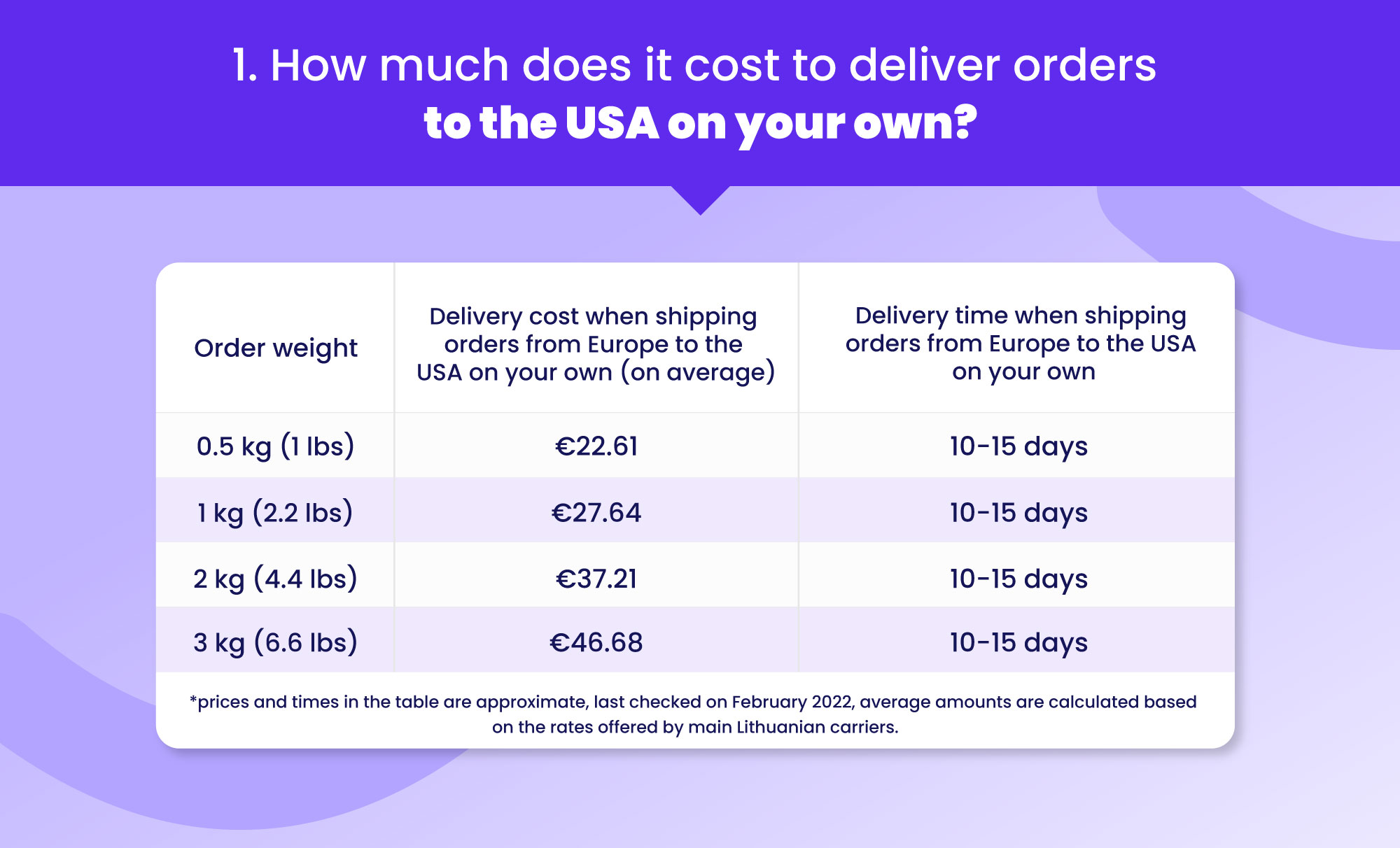 From the data in the table, we can observe that order shipping gets quite expensive. Not to mention the delivery time. The constantly increasing number of eCommerce businesses and competitiveness have spoiled the customers in regard to order delivery times. They want their items here and now. So if you cannot ship an order fast enough, the client will choose a seller that offers a shorter delivery time.
These are precise reasons why shipping to the USA without the help of 3PL services is unappealing to the European eCommerce businesses. Once they calculate and evaluate delivery times, they dismiss the intention immediately.
And now let's look at the order delivery terms a business gets when it partners with a 3PL logistics company, such as HappyParcel. I.e. when the products are transported to the USA fulfillment warehouse beforehand, are stored there, and, upon receiving an order, are shipped to the USA customer right away.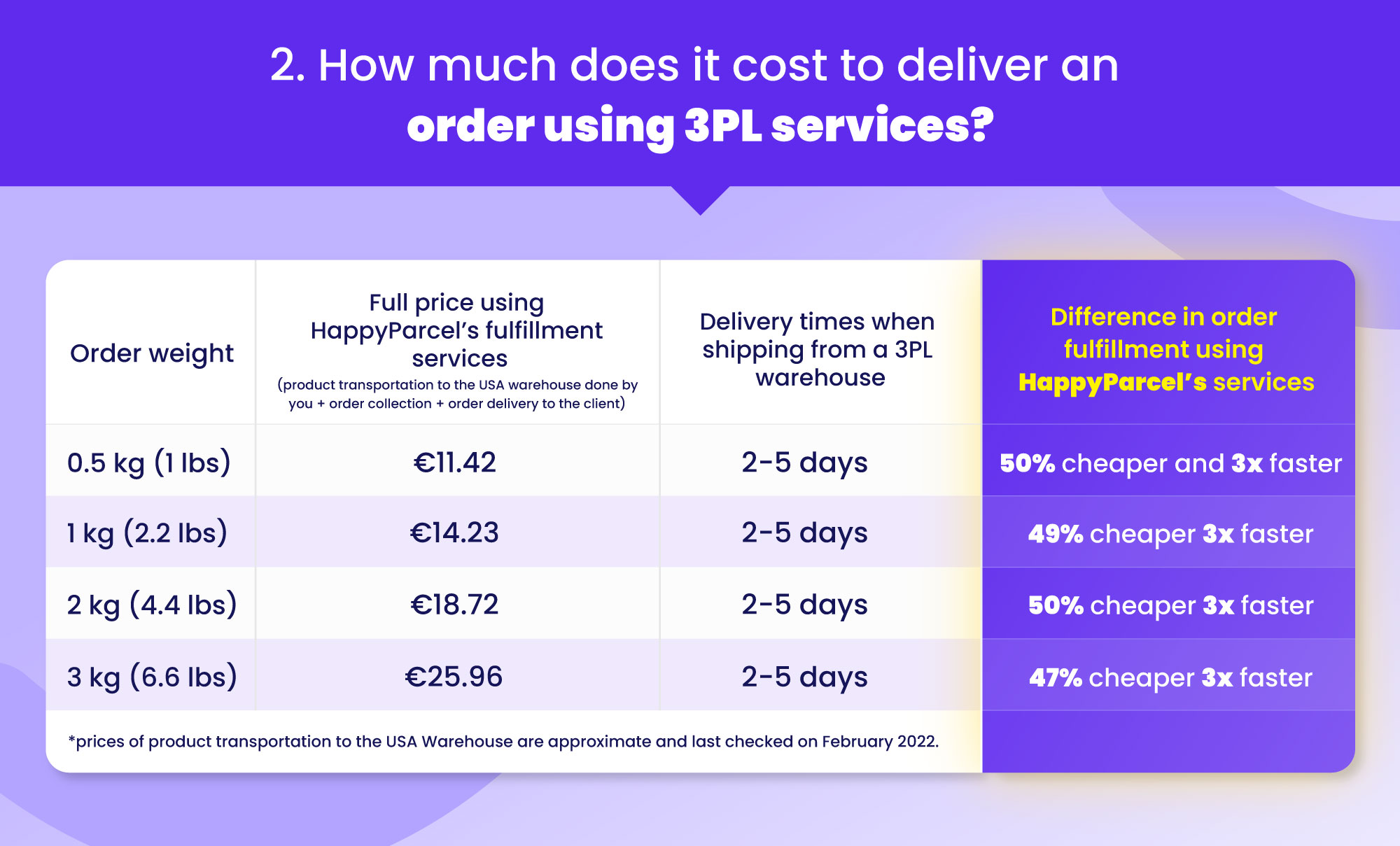 The difference is obvious, right?
Using HappyParcel's eCommerce fulfillment services, order delivery will cost ~50% less and packages will reach your customers at least three times faster than when shipping orders from Europe on your own. It'll help to efficiently reach the gigantic USA market, reduce shipping costs and enhance customer experience by offering fast delivery and potentially a lower product price. What's more, HappyParcel operates not only in the USA, but also in Canada and Mexico. With us, opportunities to reach new markets are incredibly big.
It's important to note that our eCommerce fulfillment pack and its cost include almost every single service and expense related to order delivery, except for one.
HappyParcel's service pack covers:
Accepting and stocking products in the USA warehouse.
Receiving eCommerce and B2B orders.
Selecting suitable packing materials.
Preparing, verifying, and shipping products to your customers.
Easy and quick integration of your e-shop.
Caring client support.
HappyParcel's service pack excludes:
Transporting products to the USA warehouse.
It means that an eCommerce business has to take care of products delivery to the USA warehouse on its own. But HappyParcel can help you with this task as well since we have many years of experience in international logistics. We will help you find partners that will transport your goods safely and at an affordable price.
Although the prices in the second table are estimated including possible costs of transporting products to the USA warehouse, every eCommerce business owner needs to know how much it would cost to ship goods to the USA in bulk.
Here are the preliminary costs of shipping goods from Europe to the USA using the services of HappyParcel's partners.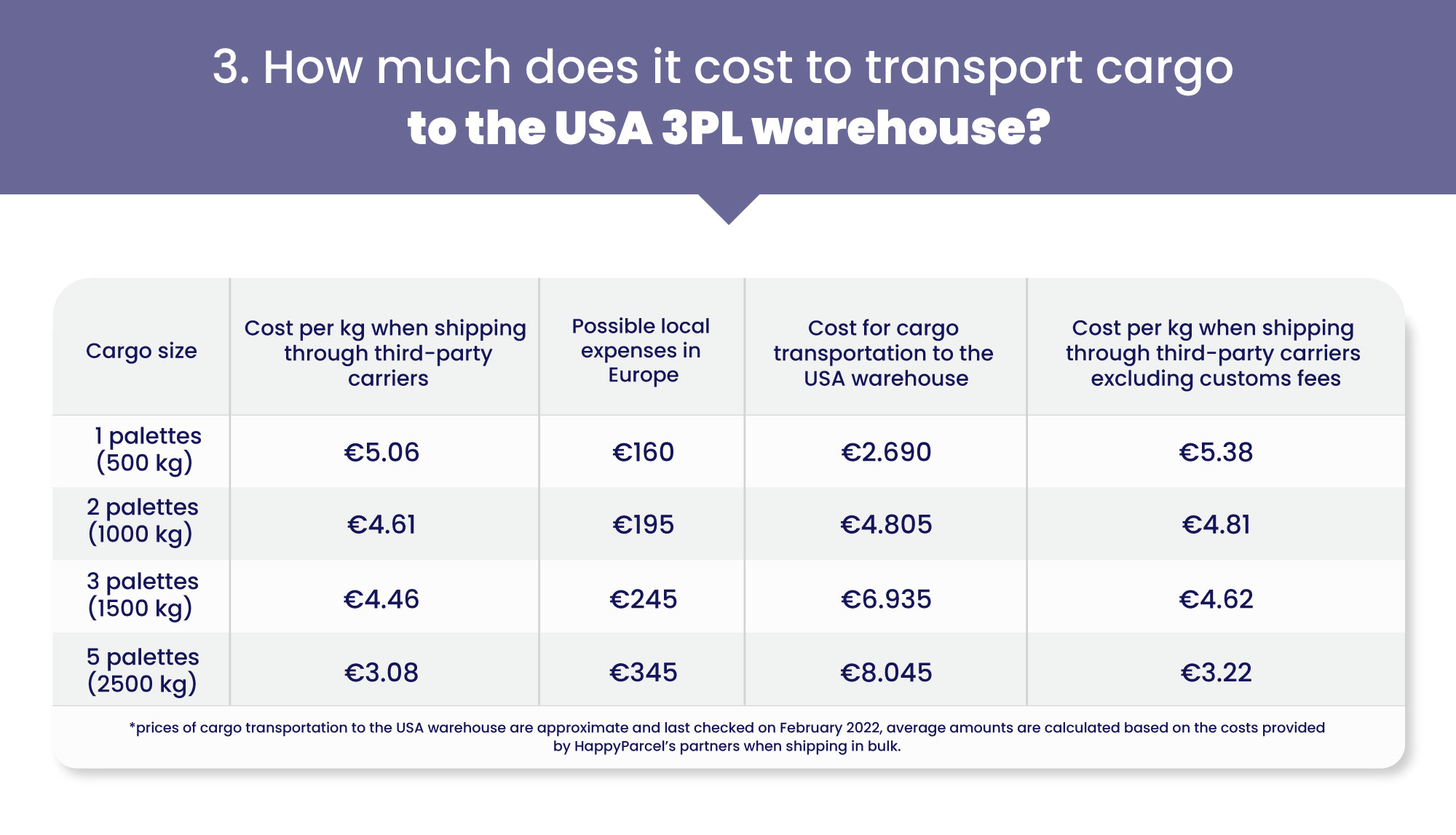 Please note that when shipping larger amounts, the cost per unit decreases. And despite the expenses of cargo transportation to the USA, the second table clearly shows that, with HappyParcel's services, orders will reach customers a lot faster and you will spend at least 50% less than when shipping orders from Europe to the USA without the aid of 3PL logistics provider.
3PL services have many benefits. The most important of them include bigger profit, smaller expenses, and satisfied customers. If you're still hesitating whether fulfillment services are suitable to your eCommerce business, contact HappyParcel and we will promptly answer all your questions. And if you wish to get an individual offer right away, send us an inquiry.